Expert Calls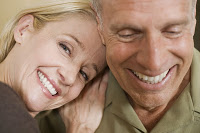 Transformational Tuesdays Weekly Tele-Course
The ultimate caregiver support companion, Transformational Tuesday is a weekly tele-class featuring expert interviews on topics relevant to "boomers," packed full of valuable information and practical advice—the ideal caregiver resource package.
This interactive and engaging weekly tele-class encourages audience participation through discussions topics, and question and answer sessions, and has proven to be an invaluable caregiver resource.
Feel free to peruse the list of previous Transformational Tuesday session displayed below, and listen to any (or all) sessions that strike a chord with you, using the embedded audio players.
To receive updates and notifications regarding future classes, please use the sign-up form below too.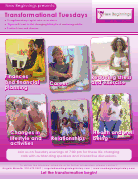 Download Transformational Tuesdays Flyer Here
Transformational Tuesday Sign-Up Form
Please fill out the form below to sign-up for New Beginnings Transformational Tuesday weekly tele-class.
Sign Up Now for Additional Information.
The following are recordings of New Beginnings Transformation Tuesday's Expert Calls
Tara Sheppard – KFTA Life Settlements
Audio clip: Adobe Flash Player (version 9 or above) is required to play this audio clip. Download the latest version here. You also need to have JavaScript enabled in your browser.
Yoka Johanna – Portrait Artisit & Jorie Healer
Audio clip: Adobe Flash Player (version 9 or above) is required to play this audio clip. Download the latest version here. You also need to have JavaScript enabled in your browser.
Kelly Kobayashi – Mannatech
Audio clip: Adobe Flash Player (version 9 or above) is required to play this audio clip. Download the latest version here. You also need to have JavaScript enabled in your browser.
Darlene Merkler – Baby Boomer Care Expert
Audio clip: Adobe Flash Player (version 9 or above) is required to play this audio clip. Download the latest version here. You also need to have JavaScript enabled in your browser.
Claude Sinclair – Uncommon Knowledge
Audio clip: Adobe Flash Player (version 9 or above) is required to play this audio clip. Download the latest version here. You also need to have JavaScript enabled in your browser.
Russell Taylor – FDI
Audio clip: Adobe Flash Player (version 9 or above) is required to play this audio clip. Download the latest version here. You also need to have JavaScript enabled in your browser.
Sean Castleberry – Coastal Financial Group
Audio clip: Adobe Flash Player (version 9 or above) is required to play this audio clip. Download the latest version here. You also need to have JavaScript enabled in your browser.
Jeanette Chasworth – Aging in Place
Audio clip: Adobe Flash Player (version 9 or above) is required to play this audio clip. Download the latest version here. You also need to have JavaScript enabled in your browser.
David Bransky – Alphabiotics
Audio clip: Adobe Flash Player (version 9 or above) is required to play this audio clip. Download the latest version here. You also need to have JavaScript enabled in your browser.
Raphael Irving – CPA
Audio clip: Adobe Flash Player (version 9 or above) is required to play this audio clip. Download the latest version here. You also need to have JavaScript enabled in your browser.
Contact Angela: Angela@NewBeginningsToday.com | 310.673.3349